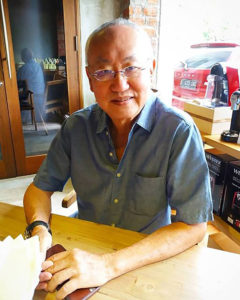 William Wongso has been eating at "The Curly Noodle" for longer than I've been alive. A humble hole in the wall founded by the Hartono family in 1954, Mie Keriting's clear soup with meat balls and fatty cuts of roast pork have been heartily devoured by the famed Indonesian chef and traditional food ambassador since 1977.
The Chinese restaurant is our first stop after he picks me up at Jakarta's Soekarna-Hatta Airport.
He's promised me an Indonesian food tour of epic proportions after hearing my incessant applause for West Sumatra's coconut milk and lemongrass infused beef rendang as we chat over a proudly Namibian T-bone at the Joy of Food in Windhoek.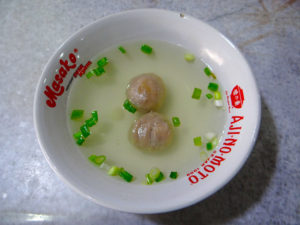 Eager to expand a palette weaned on red meat and potatoes while showing off some of the culinary heritage of Indonesia's 17 000 islands and 34 provinces, he counters my 'I'll be in Jakarta this summer" with a mischievous "Wonderful. Excellent! So…is there anything you don't eat?"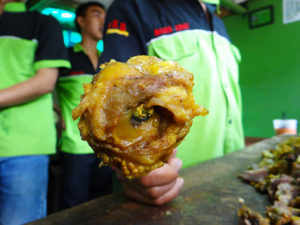 The "anything" he's referring to is the cow's eye I wave away at Soto & Sop, a popular eat-up-and-get-the-hell-out type warung where huge piping hot pots of savoury broth bubble right in front of your table monitored by a cluster of cooks flinging offal into the steaming depths.
I visit the warung with food scientist Santhi Serad and Acehnese restaurant owner and chef Astrid Enricka.
They're part of a gastronomic gang called 'I Love Indonesian Food' (Aku Cinta Masakan Indonesia), an exemplary organization founded by Wongso and Serad to preserve, develop, document and share Indonesia's culinary heritage through culinary clinics, potlucks, food anthropology and events.
Part of this heritage is the Javanese skin crackers we had a few hours earlier made of the hot oil fried and expanded soft inner skin of a buffalo.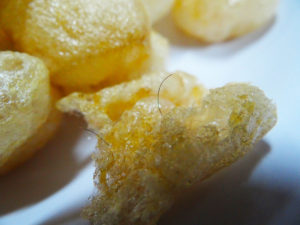 Though it's a little too reminiscent of the snack's former incarnation, Indonesian food writer and stylist Ade Putri suggests I take the stubborn black buffalo hair sticking out of one of my crackers as a sign of good luck. Perhaps more so than the Batak meal of ayam pindar which is simply chicken cooked in spices…and chicken blood.
Less alarming is restaurant Lapo Marpadotbe's babi goreng (fried pork and sambal/chili relish), sayur ubi tumbuk (cassava leaf cooked with coconut milk and torch ginger) and ikan mas arsik (gold carp fish cooked with andaliman pepper/Batak pepper and torch ginger) which we eat with gusto as table of ravenous Jakartan policeman dig into some of the same one table over.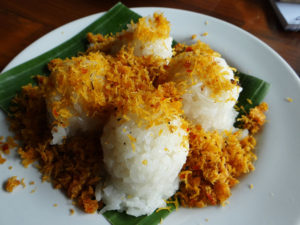 Dessert we have at Ragusa Es Etalia. A quaint authentic Italian ice cream shop which has been operating since 1932. However, because I've had ice cream before and there seems to be no such thing as a last meal of the day in Indonesia, to close what has been two solid days of throwing things down my neck, I suggest we end with something a little more traditional.
Teh poci (traditional tea served from a clay tea pot with rock sugar) and ketan bakar (baked sticky rice) which we enjoy from a street facing table at the wooden and quite wonderful Kedai Tjikini.
Though Jakarta isn't a city that screams food destination, by the end of the tour, stomach distended and begging for no more, I know it is.
Home to over 9 million people and littered with warungs as quick and efficient as Soto and Sop in-between hawkers peddling countless takes on rice, noodles and martabak from a parade of never-ending mobile food stalls, like many places in Indonesia, in Jakarta, eating is an eventful part of daily life and culture.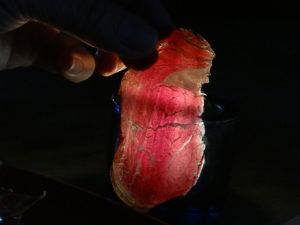 Also exciting in its more upscale restaurants such as Sate.ku which exchanges traditional goat meat sate for the most succulent cuts of lamb and Javanegra Gourmet Atelier's singular Spanish dishes and gourmet coffee from 7 Indonesian highlands, Jakarta is an underrated foodie fascination.
Insatiably eating our way from North Jakarta to South Jakarta with some delicious stops in-between, perhaps chef Wongso and I's most offbeat eat was a little closer to home.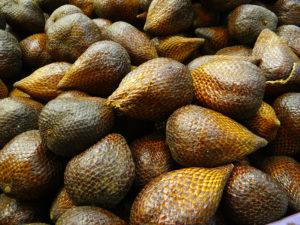 Standing in the air-conditioned aisles of an All Fresh fruit and vegetable store across the street from my hotel, eating snake fruit right off the heap as he answers my query as to why Jakarta isn't a more popular food destination with a phrase I've heard uttered in various degrees of defeat all day…
"The traffic!"