George likes to say 'We're the sculptors of our own destiny." I've known him one out of the two days I'll be on a train from Los Angeles to New Orleans but when people repeat things five times in the space of as many minutes, you figure it's their go-to fascinator.
That phrase which feels familiar on the tongue and easy enough in the air that they trot it out as often as they can, anticipating nods, knowing smiles and one more order of Finlandia vodka.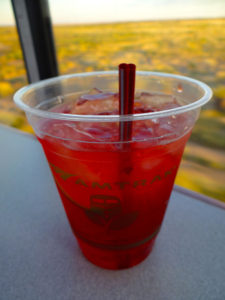 According to George, his destiny is the Sunset Limited. A 123-year-old inter-city train, chugging from California to Louisiana via Arizona, New Mexico and Texas.
The loquacious lounge car attendant has been mixing Screwdrivers, microwaving hot pockets and announcing his imminent breaks over a crackling loud speaker on the Sunset for 20 years and he's come to know a few things about travelers.
How they'll see two whole days of nothing but mountains, Mojave Desert and bayou country gaping soulfully on the horizon and strike up easy, cost-sharing friendships with an enthusiasm reserved especially for the impending and particular horror of prolonged confinement.
He takes my American friend James and I for the ilk and seems surprised to be entirely incorrect.
Jim and I have known each other five years, the two-day trip is his idea, the third or fourth one of his life and he's been previewing the excursion with a goading, chuckling 'Are you ready?" for the last five days.
Practically, "ready" means arriving at Los Angeles' Union Station at 21h30 on a warm Wednesday evening. 
That's an hour before departure on platform 13 where a uniformed Amtrak attendant checks our tickets and has us stow our bags on the train's first floor before gesturing right and up the stairs to coach.  Rows and rows of blue reclining seats, dark during a drowsy time of night.
Seats 57 and 58 are where Jim and I will spend the next 3 211 kilometres as the Sunset Limited clatters over 71 kilometres of track per hour for the next 48.  We can move between our seats, the dining section, a sunny indoor observation deck and the lounge car where we meet George, Kurt and Ben.
That last one is smuggling tequila.
Not in the kind of quantities that will get him arrested. Just with a flagrant disregard for the Sunset's no outside alcohol policy as he regularly ducks into the lounge car bathroom with a telltale bottle of orange Minute Maid magically topping up with every bowel movement.
Ben has heard that he looks a little like Adrian Grenier before and commutes between Tucson, Arizona and Los Angeles where he sets up high school networks but not to the extent that he can afford to live in the City of Angels fulltime.
Instead he takes the train home to Tucson where we say goodbye to him after a chatty night spent staring out into the pitch black in-between discussion's about Fermi's Paradox, 'American Gods' and Gila Monsters.  The latter venomous Arizona-dwelling lizards Ben Google Images on his phone and says need to be half drowned along with your hand if you're ever blighted enough to have one figure you for a fool.
Kurt calls Arizona "the wild west" and, submerged Gila Monsters firmly in mind, James and I believe him.
We meet Kurt over sundowners on our first full day on the Sunset after we've said goodbye to Ben and bolted through sleepy 07h00 Tucson making a beeline for coffee at Caffe Luce before hotfooting it back to the train.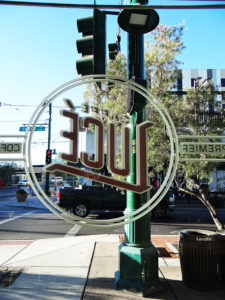 You can leave during the Sunset's sporadic stops but if you linger too long at a quirky coffee shop or underestimate how long it will take you to stumble back on board from a train station adjacent bar, that's every bit your own business.
The train won't wait.
Horns will blare insouciantly at railway crossings and your luggage will just keep on hurtling through the Sonoran Desert. Right past the prickly saguaro cacti you've probably seen on loop behind Roadrunner and Wile E. Coyote.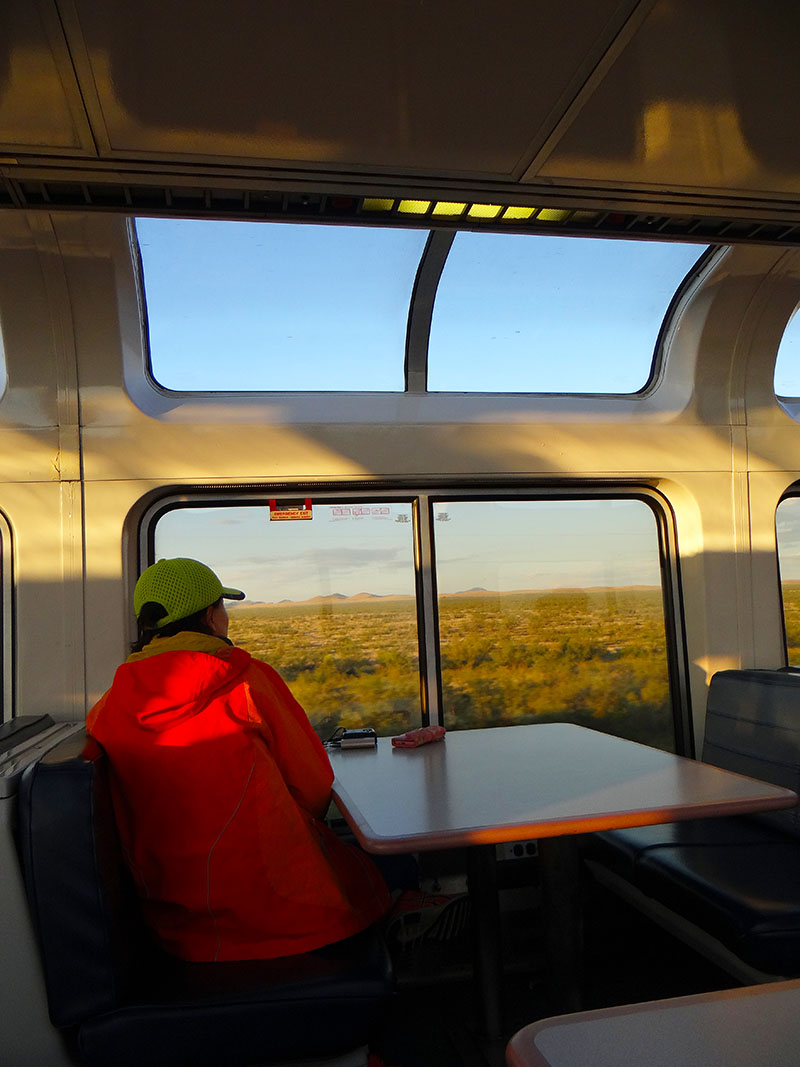 Back to Kurt in the lounge car and he's telling us about President Trump. That he voted for him, that he was the lesser of two evils and how he carries a gun as naturally and as often as putting on pants in the morning.
It's a day after Trump renames Namibia, dropping an 'i' and breaking the internet and Kurt is thrilled that I have come to visit America from so far. He doesn't attempt to say the name of my country back to me but his eyes widen at the words "Southern Africa" and, when he leaves, he tells me to enjoy my stay in "the land of the partially free".
Kurt didn't vote for Obama.
He's 61 years old and he says his wife, whose existence he sums up in a smiling "she was cool," continues to communicate with him despite a recent and  significant loss in corporeality.
Kurt has never been on a train but he loves the Sunset.
He's thinking of bringing his motorcycle on it next time.  Stowing it somewhere as he enjoys the slow pace of the train. Glancing into passing gardens, returning waves from cheerful locals and watching the light and landscape graduate in surges of mountain, desert, pecan groves, farmland and marshy bayou.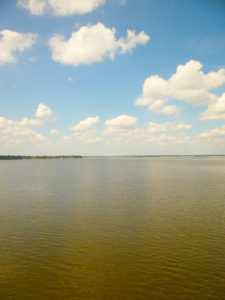 Kurt's motorbike is one of three things he owns in the world alongside two jeeps, one much like the Comanche he's wearing printed on a greying shirt below a thick white head of hair and a pair of piercing blue eyes.
He had a house once in Arizona.
He bought it for U$40 000 and hates how people from places like Los Angeles bought up property in the southwestern state only to sell or rent it for more than locals can afford.
Kurt lost his house but he doesn't say how.
Instead he sips slowly from the large bottle of beer he's nursing between two slabs of hand and talks about trail runs. Much loved jeep excursions he takes alone or with friends, bettering his skill to navigate Arizona's harsh desert terrain and shooting targets if at anything at all.
Kurt's preferred pastime isn't much but it's his favourite kind of freedom.
Going out and not having anyone chase him off their property and feeling, sometimes, that he's the only man in the world. Unchecked by law, order or any president's perceptions.
He tells us again that he voted for Trump as the lesser of two evils because he's been witnessing Hillary Clinton's crimes since he was kid.  Then he glances at me, maybe at the colour of my skin, and adds that he didn't vote for Obama but only because he didn't think he had enough experience.
James – a perennial thorn in nonsensical sides –  points out that Obama had far more experience than Trump and Kurt bristles before countering that America doesn't need another politician and that he doesn't much care who the president is as long as his family eats and they can protect themselves.
Overall Kurt thinks America "needs a reset" and, to him, Trump's flirtation with nuclear war may be the very thing to wash the USA and the world clean.
"We need to start again. Everything. All over."
I last see Apocalyptic Kurt at the train station in Alpine, Texas, his grey shirt glowing a little in the light of a pale toenail moon and he waves as James and I head out to see thirty minutes of the city.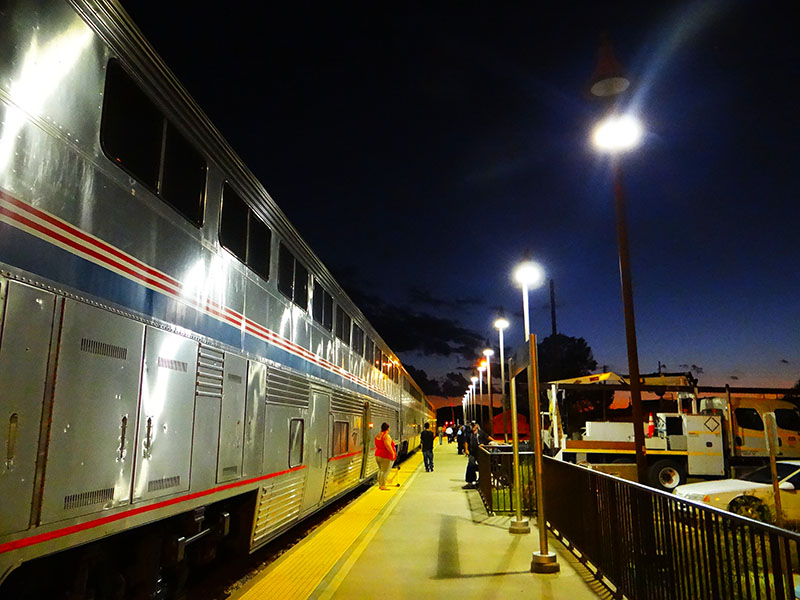 In Alpine, there's an art gallery called Art Gallery, store fronts shut tight for the night and The Saddle Club a brisk walk away where two women smile as we hurry in and down a shot of tequila and one of Jack before scurrying back to the train past two huge GMC trucks barreling down the road and a Thai food kiosk whose owner waves us away with a smile signaling "closed".
I'd like to ask Kurt what he thinks of the border wall at our stop in El Paso but I don't see him.
Instead, a while after Alpine, I take in the fence between the Mexican city of Juarez and the American city of of El Paso and marvel at how arbitrary borders are.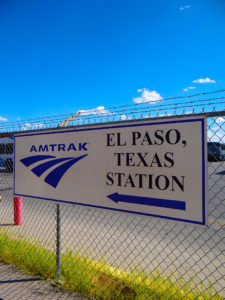 From the El Paso platform I can watch an entire swathe of Mexico. See a bustling motorway with cars whizzing by, graffiti that reads "Reconditos," houses painted in colourful geometric designs and a mountain adorned with white lettering. A biblical Hollywood sign painted haphazardly in Spanish.
"La Biblia es la verdad. Leela."
"The Bible is the truth. Read it."
The two New Mexican women James introduces me to in the Sightseer car on the final day of our journey don't mention Juarez but they're glad I include Mexican people when talking about American minorities.
Black Lives Matter has borne witness about rampant racial profiling and discrimination by law enforcement, #TakeTheKnee is just beginning to gain traction, DACA (Deferred Action for Childhood Arrivals) is highlighting the plight of Mexican immigrants to America born on either side of the kind of wall you can see at El Paso and they're heartened that their stories are trickling through the world.
The New Mexicans are retired teachers from Roswell and they grin when I shriek with excitement and begin to chatter about aliens.  One of them shows us a photo of her granddaughter at an annual UFO Festival.
The event is meant to attract more tourists to the waning city, capitalizing on theories about Area 51, the 90s series named after the town's popularity and science fiction in general.
Actors from Star Trek were in attendance one year and the teachers say it's becoming a pretty big deal before asking me if I'm surprised they're not alien as they gleefully pretend to pat down their antennae.
I'm not surprised but I think we all feel a little alien passing through Houston.
Taking in the piles of rubble left in the wake of Hurricane Harvey. Small mangled islands in empty streets that seem the sight of some kind of abduction.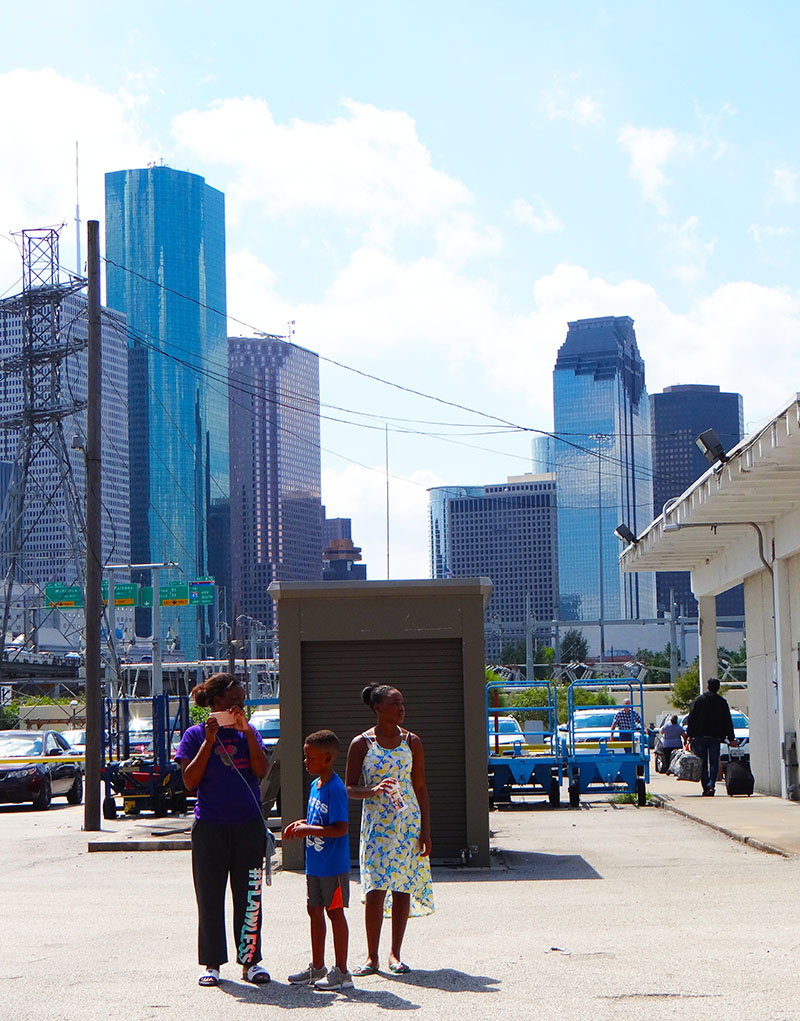 Houston is our last stop before Louisiana.
It ends a long trip to through the expanse of interminable Texas and, in Lafayette, a little black girl in a red checkered dress waves as houses begin to look a little bit more dilapidated, forgotten, twisted by the natural disaster of mistreatment almost 400 hundred years old.
Somewhere above the Mississippi River, high on the Huey P. Long Bridge we catch sight of New Orleans.
It's been two nights and two days of counting power lines and Union Pacific Trains, taking photographs, sleeping fitfully, talking to strangers, drinking cranberry vodkas and watching Dollar General stores flash by on the fringes of cities and towns far less famous than where we're headed and we're happy to see it shine.
We rattle into New Orleans just after 22h00 and our exhausted bodies and singular experience render us something a little less than human.
Intercity aliens, a little green from two days of train, smoothing down our hair, patting down our antennae…
About to invade The Big Easy.