Call me crazy but I have zero interest in eating in a cemetery.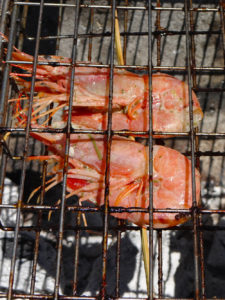 In fact, the one and only time I've ever been in such dens of the dearly departed was in Berlin a few months ago where I spent the crappy part of a good morning hyperventilating over what used to be Bertolt Brecht.
Death just isn't my jam.
So if I'm drooling over lamb chops and chicken kebabs before asking my colleagues or friends where they went right in life and I hear 'At the graveyard!", it's not long before I avoid the area entirely. Vexed by fumes, tormented by chicken that tastes "just as good as Nando's,"
That praise goes to Papa G's.
I eventually find this out when my buddy Tim clarifies that the braai stands aren't actually in the graveyard or even overly close to them but a little way down the road.
Heartened by the prospect of not being haunted for the remainder of my life as retaliation for chewing chicken bones in the vicinity of human ones, my sister's boyfriend Marcel and I make our way to Pioneerspark Market with our shared penchant for prawns leading the way.
Amidst The Braai Den and Papa G's, JC's Fish Barbecue has sprung up promising grilled hake, angelfish, kabeljou and prawns so we're eager for the latter but destined for dazzling disappointment.
There are no prawns that day or any of the days we call or show up and when I finally do phone to inquire about prawns and I'm assured there are some, I race there well after I'm told they'll be cooked to find them raw and the service rude despite the fish looking like heaven on a grill.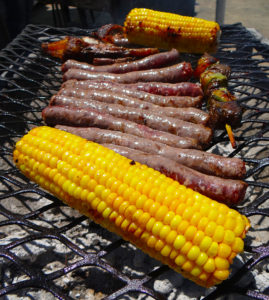 Lucky for me, at Pioneerspark Market, friendliness and outstanding service can be found in the form of Mr. Kamwi Kamwi who cuts a garrulous figure at The Braai Den while his assistants peddle succulent beef and chicken kebabs, lamb chops, boerewors, corn, homemade ginger beer and "Windhoek's finest roosterbrood."
Described as "your one stop braai shop," Mister KK recommends adding a little of their tomato and onion relish to your order, if you pop in on any day of the week as they're open during every grand one of them.
The same can be said for Papa G's chicken where a shy woman named Carmen presides over slapchips as well as quarter, half or whole lemon and herb or peri-peri chickens while assuring me she can demote the hot stuff to mild.
Making juicy miracles of notoriously dry chicken breasts, quick on the grill and with a smile, the staff at Papa G's make reality of the rumours and I doubt I'll be needing Nando's in this life or the next.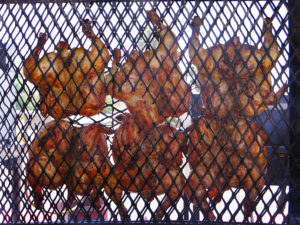 Also equipped with a couple of tables in a fledgling cactus garden, Papa G's, unlike the other stands, is a place one can actually choose to chill while casting greedy glances at everything sizzling in the surrounds.
Cheap, largely cheerful and great for on-the-go lunches or takeaway dinners, the stalls at the Pioneerspark Market are a must for the braai-loving and the brave. Head here, just a little past the Pioneerspark Cemetery for meats and eats worth upsetting the ancestors.