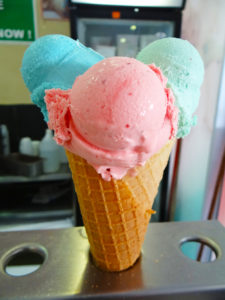 Listen, it's hot. The mosquitoes are still pretty chilled but they're just gathering their strength. Under boob sweat and that perpetual sheen of moisture on your upper lip are a thing. The gyms are packed. The dieters are dedicated. And throughout all this relentless sweat and discipline, the other bright spot besides the insensitive sun is the comfort food many of us have enjoyed since childhood.
The sticky treat we've licked off filthy fingers, cried about après plummet towards pavement and which easily improves hot summer days and warm summer nights.
Ice cream.
Best for break ups, bad days and beautiful ones spent in the sun, the creamy dessert is nostalgic, novel and now available in just about any guise you can imagine.
Here in Windhoek, scoopers of said dessert are doing a roaring trade. Selling it in cups and cones, with toppings or drenched in syrupy sauces, ice cream is available local and lekker, moonlighting as yoghurt and can even be made yourself.
Here is a roundup of some of the best ice cream spots in the local industry.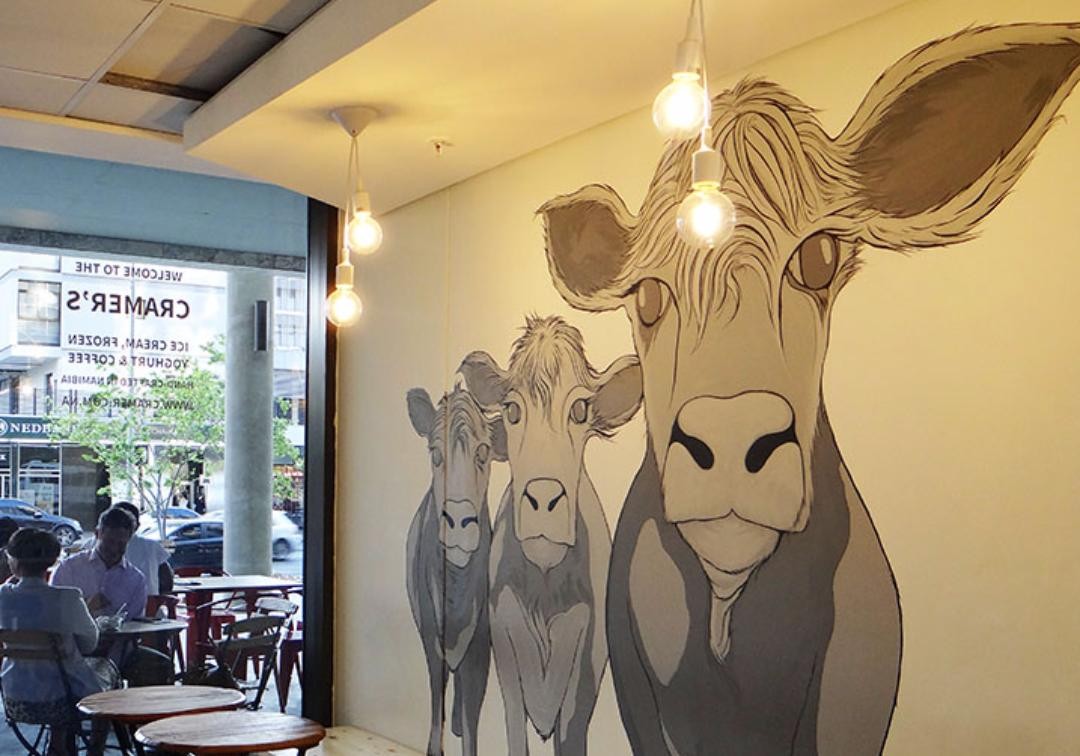 Cramer Ice Cream
While Namibia is known for its beer and biltong, perhaps the day will come when it's acclaimed for its ice cream. And at the helm of our international ice cream fame will be the Cramer's.
Creative crafters of delicious sorbets, fabulous frozen yoghurts and incredible ice creams, Ina and Ernst-Ludwig Cramer hand craft ice cream from scratch from their farm about 180km's Northeast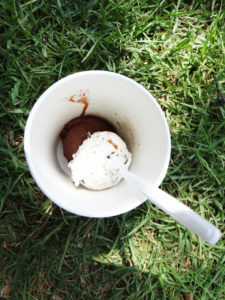 of Windhoek.
Made from the purest and freshest organic milk courtesy of cows like Melsie, Jenny and Gooie More, Cramer ice creams, frozen yoghurts and sorbets are artisanal and amazing in flavours like apple crumble, black forest, coffee and pecan, lemon and blueberry, macadamia white chocolate,  salted caramel, strawberry rhubarb and tiramisu.
Boasting an unlimited and ever changing array of flavours some specially made for restaurants and hotels, Cramer ice cream is eagerly experimental.
"Sometimes things just  trigger my imagination, like melktert, apple crumble or tiramisu and I just have to see if I can make an ice cream copying that particular taste  or flavour," says Ina Cramer.
"I like to use local products as often as possible and develop flavours around them. That's why we have the lemon and citrus flavours, the mulberry one and the rhubarb and strawberry. I would love to add an indigenous flavour to our range and I'm currently waiting for a shipment of monkey oranges from the Kavango region so maybe there'll be a monkey orange frozen yoghurt soon!"
Look out for Cramer's Monkey Orange frozen yoghurt at their  ice cream café in the New FNB headquarters on Independence Avenue. The Wi-Fi is free, they aren't beyond a little live music and they even serve wine.
Raith's Gelateria
For delicious on-the-go scoops in Town Square, MaeruaMall Lifestyle Centre and on Tobias Hainyenko Street in Swakopmund, there's no better buy then a little something from Raith's Gelateria.  Offering freshly made Italian style ice creams and sorbets in flavours like Straciatella, guava, apple, kiwi, lemon and blood orange alongside classics such as chocolate, almond and strawberry; Raith's boasts friendly staff, smooth scoops and delicious homemade sugar cones.  If you're at the Maerua Mall Lifestyle Centre, ask the lovely Esme for a recommendation.
Garnish
Last but not least when it comes to local and lusciously made is the creamy kulfi on sale at Garnish. Sold in scoops or to-go on a stick, Garnish's kulfi is a traditional Indian ice cream  made from reduced full cream milk, sugar and infused with natural flavours like cardamom, Malai, mango, pistachio, chocolate and vanilla. Wonderfully creamy with a hint of spice, their cardamom kulfi is a little taste of India that cannot be beat. Try this freshly made for the feel of faraway places at their restaurants in Windhoek and Swakopmund.
Marcel's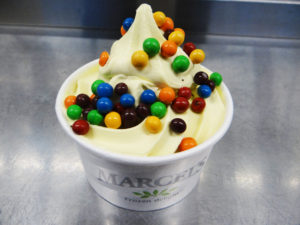 For the froyo loving, Marcel's is one of the fabulous ways forward.  Situated in Pick n Pay in the lifestyle centre behind Grove Mall, Marcel's brings its brand of soft serve style frozen yoghurt to Windhoek in flavours like English Toffee, Salted Caramel and Turkish Delight. Added delight is their assortment of toppings, tempting in scoops of fudge, chocolate sauce, Smarties, Astros and everything that can only be consumed without conscience.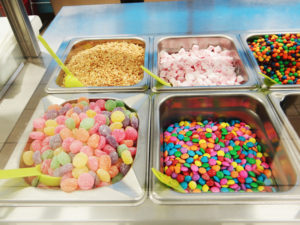 Marcel's frozen yoghurt is fresh, delicious and served by smiling staff that makes the indulgence all the sweeter.
Wakaberry
If you've ever wanted to work an ice cream machine and fill your tub with a mix of every flavour on display crowned with miscellaneous toppings, Wakaberry is the frozen yoghurt franchise for you.
Fun, friendly and delightfully DIY, Wakaberry is situated near Ster-Kinekor in Grove Mall where its colourful aesthetic and terrific toppings beguile children and adults alike.
Employing a weigh-and-pay format, patrons are simply charged for their tub's weight.
The implication here is, go crazy but keep it light.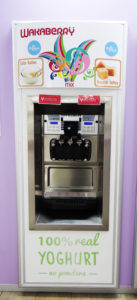 Wakaberry frozen yoghurt is offered in three types: Premium Sweet which tastes like ice cream, Original Tart which is akin to yoghurt and Sorbet which contains no diary.  Head to Wakaberry to treat yourself to frozen yoghurt flavours like Cake Batter, English Toffee and Mango.
DIY
While the aforementioned ice cream shops are all individually awesome, if you're trying to watch your weight and your budget, there's no better and cheaper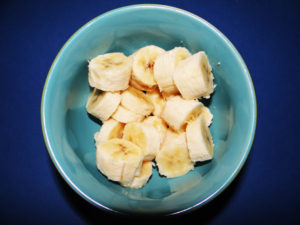 option than this particular recipe: Cut some bananas into rounds.  Freeze them overnight or until solid. Throw them into a blender until smooth or mash them up by hand.  Serve immediately or store in the freezer in a closed container.
Of course if you like your ice cream, classic, soft serve style and a little easier on the pocket than what's on offer at specialty stores, nothing beats an old school cone as available at KFC, Hungry Lion and DoRegos.
My personal favourite soft serve spot? The OK MiniMark at Game.
That vanilla and chocolate swirl topped with a flake and the smell of slap chips sizzling in the distance won't just make your day…it'll make your summer.